Clarities, Ivan Cheng
Friday 15 Sep 2023 from 7pm to 7:30pm
Saturday 16 Sep 2023 from 3pm to 3:30pm
The performances are filmed: filming the audience and livestreaming it is an integral part of the artist's performance. We invite those who do not wish to be filmed to make themselves known to our team.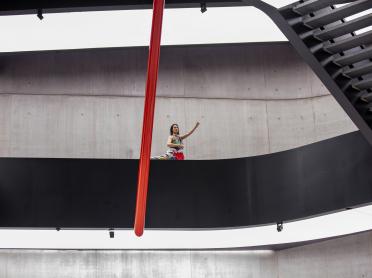 In a performance created for Échelle Humaine, Ivan Cheng presents a series of filmed monologues that confront the expectations, absurdities and grotesqueries of artistic creation.
"Editing for clarity" means rewriting a text to make it clearer. Here, the term "clarities" in the plural suggests a multitude of possible meanings and clarities, induced by the variety of fantasized recipients.

Clarities offers an acrobatic journey through the complexities of language and its theatricalisation - a journey in the form of continuous flows and re-composed digressions.

Pub auras, Frankenstein and Snoopy, tournaments, television scale plots, class consciousness, intergenerational transmission and its wobbling movement on the retinas.

Performance in English. Full translation available at the door.

Cameraman: Arvo Leo
Garments: Good & Bad (Marina M. Kolushova, Victor Stuhlmann, Ossi Lehtonen)
With the support of Lafayette Anticipations - Fondation Galeries Lafayette and Édouard Montassut.
Ivan Cheng produces videos, objects, paintings and publications that serve as reference points for staging performances, both complex and precarious.
His career as a performer and musician has led him to use performance as a critical medium. His work has recently been presented at gta exhibitions (Zurich), CNAC Magasin (Grenoble), Maxxi (Rome) and Édouard Montassut (Paris). Confidences/Majority, the final volume in a series of vampire books, was published by After 8 Books in 2022. In 2017, Ivan Cheng founded the project space bologna.cc in Amsterdam.