The city, a moving memory
Friday 18 Nov 2022 from 7pm to 8:30pm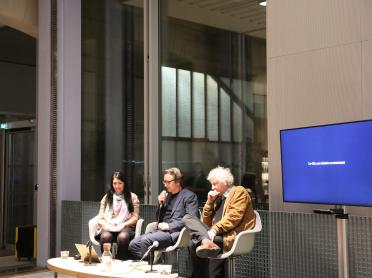 Echoing the exhibition, this conversation addresses the questions of memory and preservation in the city.

What to keep, what to destroy? What memories fade and what forms are maintained or appear?

Olivier Schefer, Eva Prouteau and Gilles A. Tiberghien discuss the artistic, aesthetic and philosophical issues of the current metamorphosis of the city of Paris.
Olivier Schefer is a writer and philosopher.
He teaches Aesthetics at the University of Paris I. Translator and interpreter of Novalis' philosophical fragments, he devotes his work to the contemporary echoes of Romanticism, to the figures of the somnambulist and the revenant, as well as to the problematic of ruins and entropy. He has recently published an essay entitled Sur Robert Smithson, Variations dialectiques (La Lettre Volée, 2021).
Éva Prouteau is an art historian and art critic. She writes for numerous artists and institutions catalogues, and regularly contributes to the magazines 303 and Zérodeux.
Latest publications: monograph Daniel Nadaud (amac éditions, October 2022); monograph Vincent Olinet (Dilecta, October 2022); Serpent d'Océan, Huang Yong Ping (Éditions Canopé, September 2022); Une saison thermique, poems for Séverine Bascouert & Sammy Stein (September 2022); a text on the cooperative choreography of effacement in urban space (Revue 303, September 2022). Coming soon: Il nous faudra nous masquer, a text on Claude Cahun and Marcel Moore and an editorial direction around the theme of masks (Revue 303, November 2022).