Bryana Fritz, Submission Submission
Monday 12 Sep 2022 from 8:30pm to 9:45pm
Tuesday 13 Sep 2022 from 8:30pm to 9:45pm
Warning: not recommended for under 16s.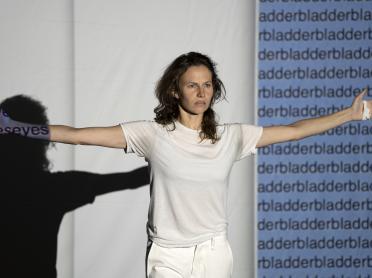 In Submission Submission, Bryana Fritz takes on the role of "amateur hagiographer", the amateur being both a beginner and etymologically a lover, and the hagiographer, the one who writes the lives of the saints.

In a series of four performative portraits (Hildegard of Bingen, Catherine of Siena, Christine of Bolsena and Joan of Arc), Bryana Fritz embodies the strategies used by these medieval saints to subvert their lives, their deaths and their passions, and to overcome their constraints and limits at all costs. By subjecting her physical and digital body to the sacred echoes of the past, she dissects and exploits the tools of the flesh and their possible power.

Choreography, text and performance: Bryana Fritz.
Dramaturgy: Tom Engels.
Music partly based on : 'Monsters' by Heavens to Betsy, 'Hamster Baby' by Bikini Kill & 'Like a Prayer' de Madonna
With the support of : Performatik19, Beursschouwburg, Kunstencentrum Vooruit, LOD muziektheater, and Onda
Special thanks to Christine l'Admirable, Joan of Arc, Christine of Bolsena, Hildegarde de Bingen, Marguerite Porete, Catherine of Siena, Heavens to Betsy, Bikini Kill, Liza 'N' Eliaz, Henry Andersen, Sarah Leck, Emmanuelle Raoul-Duval, & VCX Adult Entertainment.
Bryana Fritz is a choreographer, dancer and writer.
Born in Chicago, she studied dance at P.A.R.T.S. (Brussels). She works at the intersection of poetry and performance, often in duo with the OSX user interface. Her work is informed by an ongoing interest in medieval literature, fanfiction, media studies and the practice of collective reading. She also works with artist Henry Andersen, under the name 'Slow Reading Club'.