Book launch "The Empire Remains Shop"
Friday 22 Jun 2018 from 5pm to 7pm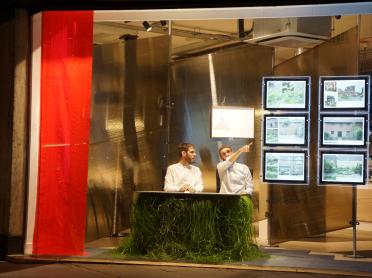 Join us for the Paris launch of The Empire Remains Shop (Columbia Books on Architecture and the City, 2018), Cooking Sections first book following the eponymous ongoing research and installation that offered a postcolonial framework to negotiate the relationships, imaginaries, and economies the United Kingdom bears with its former colonies.
The evening will feature an introduction by Lafayette Anticipations Associate Curator Charles Aubin and a response to the book by curator and scholar Claire Tancons, from the perspective of a French context. Cooking Sections (Daniel Fernández Pascual and Alon Schwabe) will also present their lecture-performance The Next 'Invasive' Is 'Native'. A Q&A with the audience will close the event.

The "Empire shops" were first developed in London in the 1920s to teach the British to consume foodstuffs from the colonies and overseas territories. The Empire Remains Shop, conceived by Cooking Sections, speculates on the possibility and implications of selling the remains of the British Empire in London today. It lays out some of the landscapes, imaginaries, and economies, that future iterations of the shop would need to address in order to think through political counter-structures for a better distributed, hyper-globalized world.

The event will take place in English.
Free admission.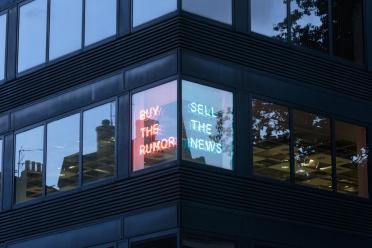 Cooking Sections is Daniel Fernández Pascual (born in 1984) and Alon Schwabe (born in 1984), a London-based duo trained in architecture and visual arts, namely at Goldsmiths University in London.
Often engaged in long-term research driven projects, Cooking Sections examines the systems that organize the world through the politics of food. Using installation, performance, mapping and video, their work explores the overlapping boundaries between geopolitics, visual arts, and the built environment. Cooking Sections' work has been presented at Storefront for Art and Architecture in New York (2017), the Neue Nationalgalerie Berlin (2014), the U.S. Pavilion for the 2014 Venice Architecture Biennale, and DOCUMENTA (13) in 2012. Cooking Sections is part of Manifesta 12 in Palermo. Their writing has been featured in a number of international magazines including e-flux magazine, Frieze magazine, and Volume as well as publications such as OfficeUS (Lars Müller) and Forensic Architecture (Sternberg Press). Their book The Empire Remains Shop (2018) is published by Columbia Books on Architecture and the City.
Claire Tancons is a curator and scholar invested in the postcolonial discourse and practice of the politics of production and exhibition with a focus on performance. Tancons has charted a distinct curatorial and scholarly path in performance, inflecting global art historical genealogies with African diasporic aesthetics as well as decentring and othering curatorial methodologies as part of a wider reflection on global conditions of cultural production.
Recent curatorial highlights include Tide by Side, the opening ceremony of Faena Art's Miami Beach district (2016); Up Hill Down Hall, a BMW Tate Live commission in the Turbine Hall, Tate Modern, London (2014) ; and En Mas': Carnival and Performance Art of the Caribbean (with Krista Thompson) organised and presented by Contemporary Arts Center New Orleans and co-organised as a travelling exhibition by Independent Curators International, New York. Over the last decade, she has curated for established and emerging international biennials such as Gwangju Biennale (2008), Prospect.1 New Orleans (2008), Cape Town Biennial (2009), Biennale Bénin (2012) and the Göteborg Biennial (2013). She is currently a curator for Sharjah Biennial 14 (2019). Tancons' independent vision has been supported by a Prince Claus Fund Artistic Production Grant (2009), two Curatorial Research Fellowships from the Foundation for Art Initiatives (2007, 2009) an Andy Warhol Foundation Curatorial Fellowship (2008) and an Emily Hall Tremaine Exhibition Award (2012). In 2016, she was selected by Artsy as "One of the 20 most influential young curators in the US". Tancons holds an MA in Museum Studies from École du Louvre, Paris (1999) and an MA in Art History from the Courtauld Institute of Art, London (2000). She is also a former Curatorial Fellow of the Whitney Museum Independent Study Program, New York (2001).