Hotel, Blackhaine
Sunday 10 Apr 2022 from 7pm to 7:45pm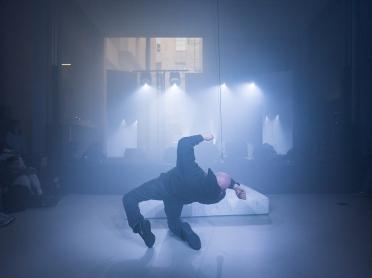 The performance Hotel reflects Blackhaine's choreographic practice, inspired by butoh and spoken word.
Conceived as an expression of a dark form of ecstasy, Hotel is a duet about purgatory
Blackhaine is a UK based project operating between Noise and Drill.
With its origins in the static anxiety of 2020, their output focuses on the 'transition from stomach knotted dread to exhaustive, prang-out negative ecstasy'.
A political act - the live show contains deconstructions of their existing sounds and future releases whilst experimenting with genre convention ranging from ambience to hardcore punk.
Previous releases include And Salford Falls Apart and Armour.
At once confrontational and intimate, Heyes probes the limits of rap machismo, street poetry, experimental dance and, ultimately, what it means to be an artist from a working class background.
He offsets aggression, braggadocio and nihilism with intense vulnerability and unrefined honesty, a dichotomy with which he is able to bring together a dizzying array of influences, from Moor Mother and Playboi Carti to William S. Burroughs and Allen Ginsberg.
Stripping away convention, Blackhaine seeks to replace his own limitations, both physical and emotional, with an armour of a paler shade.