The backstage of production : Camille Blatrix
Thursday 28 Mar 2019 from 6:30pm to 8pm
Lafayette Anticipations continues its series of lectures through which the production team, in dialogue with curators and artists, shine a light on the processes of conception and production of its various artistic projects.
The Fondation invites Camille Blatrix to present the different stages of creation for his work "Untitled" showed at the third floor of the Fondation in conversation with the art critic and curator Thomas Boutoux.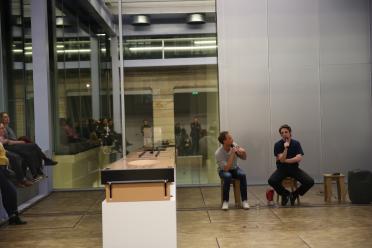 Camille Blatrix's sculptures present themselves as artifacts from a near future, emulating the forms of everyday objects while obscuring their own purpose.
Machine-like in their appearance, the surfaces of his works disguise the artist's labor, as each sculpture combines elements that are industrially fabricated with those that are meticulously handcrafted using a variety of traditional techniques. In his practice, Blatrix interjects coded references, allowing initially anonymous objects to become an apparatus for recording fleeting emotions and interactions. In 2018, his work included in group exhibitions at Palais de Tokyo, Paris, Hessel Museum of Art and the CCS Bard Galleries, Annandale-on-Hudson, and MRAC, Serigan. Additionally, Blatrix had a solo exhibition at Taylor Macklin, Zurich. Past solo exhibitions include Galerie Balice Hertling, Paris, 2017, CCA Wattis, San Francisco. 2016, and Mostyn Museum, Wales 2015. Blatrix participated in the 2015 Lyon Biennale. Camille Blatrix studied at the École Nationale Supérieure des Beaux-Arts in Paris. In 2014, he received the Prix Fondation d'entreprise Ricard.
Thomas Boutoux est un auteur, éditeur et curateur français. Il a co-fondé et dirigé à Paris la maison d'éditions Metronome Press (2004-2008) et l'espace d'exposition castillo/corrales (2007-2015). Il co-dirige aujourd'hui la maison d'édition Paraguay.
Parmi ses projets les plus récents figurent l'exposition All Collected Voices avec Helena Papadopoulos, Radio Athènes, Athènes (2017), l'écriture et la mise en scène de la pièce de théâtre Busy Time avec Guillaume Leblon dans le cadre de Front, Cleveland Triennial for Contemporary Art (2018), enfin le livre La Moustache Cachée dans la Barbe, en collaboration avec Francisco Tropa (2018). Depuis une dizaine d'années, Thomas Boutoux a collaboré régulièrement avec Katinka Bock à la fois comme éditeur de son premier catalogue, auteur à deux reprises pour des catalogues sur son travail ou encore comme commissaire, à Paris à castillo/corrales (2010 et 2011) et au Mexique à Museo El Eco, Mexico (2016).