Against nature
Wednesday 23 Nov 2022 from 7pm to 8:30pm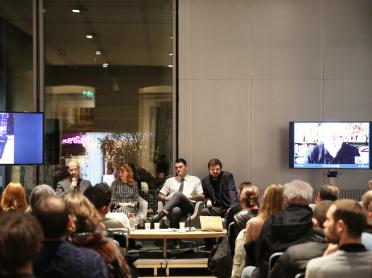 How can we go beyond the norms produced by the city? This conversation focuses on the sick, toxic or monstrous dimensions of the modern metropolis.
Inspired by fin de siècle aesthetics, this programme draws on contemporary theories impregnated with radical pessimism and dark romanticism to draw geographies in reverse.

A conversation with Pierre-Alexandre Mateos and Charles Teyssou with Finnish critic Sabrina Tarasoff, the philosopher Quentin Dubois and writer Derek McCormack.
Pierre-Alexandre Mateos and Charles Teyssou are independent curators living and working in Paris.
They are curating the first edition of Paris Conversations + by Art Basel in October 2022. Their current projects are Paris Orbital, a public programme at the Pinault Collection - Bourse de Commerce on pulp mythologies in Paris, a publication on homosexual cruising with HEAD (Geneva) and Spector Books (Leipzig), and the presentation of their research Arles Terminal City commissioned by the LUMA Foundation (Arles) at the 2022 edition of ARTBO (Bogotà). They are preparing an exhibition on Sybille Ruppert at Blue Velvet Projects in Zurich and on the poet Zoë Lund in 2023 in Paris.
Sabrina Tarasoff is a Finnish writer and critic based in Paris.
She is a contributing editor at Mousse Magazine and writes regularly for Artforum, Los Angeles Review of Books and X-TRA.
Derek McCormack's novels include Castle Faggot and The Well-Dressed Wound, both published by Semiotext(e).
His essays on fashion are collected in Judy Blame's Obituary: Writings on Fashion and Death from Pilot Press.