Adults' workshop: 'AMBIANCE J'AVOUE ZIVA'
Wednesday 30 May 2018 from 5pm to 8pm
Wednesday 06 Jun 2018 from 5pm to 8pm
Wednesday 13 Jun 2018 from 5pm to 8pm
Wednesday 20 Jun 2018 from 5pm to 8pm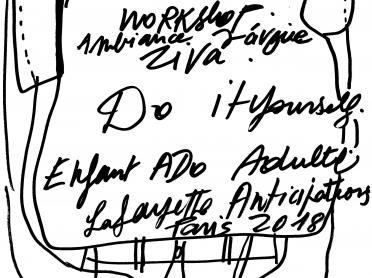 Vava Dudu
T-Shirt Workshop
With a DIY vibe!

Adults

Wednesday, May 30
Wednesday, June 6, 13 and 20
7pm - 10 pm
Summer's here!
Just do it!

Make your own t-shirt at the
Vava Dudu
Workshop
Total DIY vibe!!!
Go home with this t-shirt or t-shirts made during the workshops on the premises of Lafayette Anticipations under my supervision.
Learn different techniques in t-shirt making and use the material provided in my super Vava Dudu kit!
Cotton bag or bring one of your own t-shirts from home and get ready to recycle!
Ça va? Ça va? 
Let's go!
The concept
Make and design
Your own > kids' teenagers' adults'
T-shirt using just a simple t-shirt
+ felt
+ embroidery
+ cut-outs
+ recycled materials
The t-shirt is a means of expression that never goes out of fashion!
Like a blank page
Where you can express your individuality!
In the mood for fun?
Having a rant?
Pissed off?
Joyful?
Sad?
Poetry.
With a few deft movements of the scissors, a touch of
black felt and colour
Paint
Embroidery and recycled materials
Follow your inspiration!!!
Fees:
Full rate
12 euros
Reduced rate
8 euros
The reduced rate applies to jobseekers, social welfare recipients, persons with disabilities, asylum seekers and refugees.
The workshop also exists for
kids
and
teenagers
.
For information, contact:
Simon Gérard: sgerard[at]lafayetteanticipations[dot]com
Alice Choquart: achoquart[at]lafayetteanticipations[dot]com
Vava Dudu Lover of the avant-garde! Multi-disciplinary designer, Fashion designer, illustrator, A fan of lines and colour I also make furniture And customized guitars With the Transpiration Collective I sing in a band called La Chatte… Miaow! Electro zouk punk new wave A new album is out this April with the the Tsunami Addiction Label. Check it out!
My motto in life? Never get bored! Designer of jewellery, clothing, Fancy and fun, The avant-garde is my philosophy, DIY Punk Chic and elegant Couture mixed with street wear. I love FLASHY colours But have my DARK phases too Perfect total black look I'm obsessed with thigh-high boots Lycra suits Onesies, hoodies and fur Prints My go-to beauty product? Nivea, I never go out without eye liner, or sometimes Black and blue lip gloss. I've been shaving my hair and eyebrows for years but at the moment, I like to sculpt them 80s' B.BOY style. Or Marge Simpson. My favourite stores? International flea markets and EBAY for boots, MON AMOUR boutique in Paris on the Rue Charlot is a treasure trove of great Vintage and avant-garde finds. My designs can be found at Kokon To Zai Paris And Culotte Boutique…
The lafayetteanticipations.com website uses cookies for audience measurement purposes.
By continuing your navigation on this site, you accept their use.