Surface Horizon
Marguerite Humeau
Editor:
Lafayette Anticipations
Graphic Designers:
Atelier Pierre Pierre et Manon Bruet
Language:
French - English
Date of release:
Jul 2021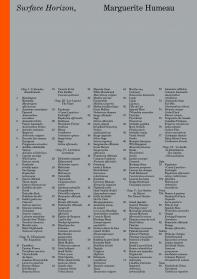 This artist's book is published on the occasion of the exhibition Surface Horizon by the artists Jean-Marie Appriou and Marguerite Humeau from 17 June to 5 September 2021.
This book pays tribute to the theory of signatures and the way it has nourished the artist's imagination. The book, conceived by Marguerite Humeau and produced with the precious help of Atelier Pierre Pierre and Manon Bruet, takes the form of botanical manuals and medieval herbariums.
It nevertheless magnifies a new kind of collection, made up of invisibilised and often denigrated species. Each plant that has nourished the artist's reflections is the subject of a digitised plate from the National Herbarium, reworked and reinterpreted to reveal its sculptural quality.
Marguerite Humeau intends to give back to these wild grasses their letters of nobility as works of art in their own right. The artist punctuates this praise with her own compositions treated in risography.