Untitled
Materials:
Ring binders, Concrete
Dimensions:
Dimensions variables
Collection:
Lafayette anticipations - Fonds de dotation Famille Moulin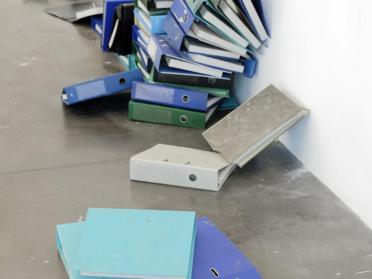 Sometimes suspended on top of steel crutches, sometimes inserted in a display cabinet whose legs buckle under the weight of their load, ring binders are a strong marker in Jesse Darling's work. In the case of Untitled, the installation isolates these binders from any other association. Scattered, as if thrown haphazardly, they go against the notions of order and tidiness that are intrinsically associated with them. Because they are not labelled, these binders leave the public wondering about their contents. The sheets that should be inserted in them are replaced by concrete blocks. Impossible to move and deviated from their primary use, the binders create an image of a fallible and dysfunctional society. The administrative norms that govern the world are here opaque and overwhelming. Jesse Darling's work, in their own words, invites us to recognize "the weight behind things assigned a certain lightness." The binders, images of order and categorization, have been shattered.

Text written by Audrey Pellerin as part of the partnership between the École du Louvre and Lafayette Anticipations – Fonds de dotation Famille Moulin.
Exhibition
Crevé
Centre d'art contemporain Triangle France – Astérides, Marseille (France)
from 16 mars 2019 to 02 Juin 2019