Unten, Unten, Unten, Hollow Whale
Materials:
Concrete, Clay, Fermented milk
Dimensions:
38.5 x 200 x 62 cm
Collection:
Lafayette anticipations - Fonds de dotation Famille Moulin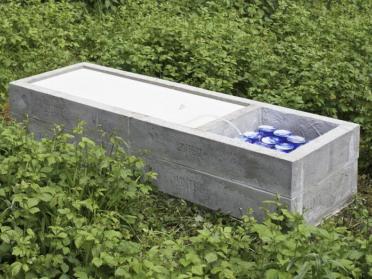 In recent years, the German artist
Anne Imhof
has become known for her performances in which she creates sets and props that become a pretext for interactions between performers: according to Laura McLean-Ferris, her work is about "staging visible forms of relational transactions" in a world of remote communication. This was the case with the DEAL project, in which
Anne Imhof
invited the actors to commune around a concrete basin filled with whey from which a bronze tongue emerged, mockingly. Some drink from it, cryptic sentences are exchanged around it, and objects are passed from hand to hand. Around this concrete sarcophagus, an altar of consumption, the community of performers seems to mark its territory according to tacit rules in the form of gifts, counter-gifts, and choreographic dances. The installation
Unten, Unten, Unten, Hollow Whale
(2014) provides the platform from which to initiate these ritual gestures of commercial exchange—from dealer to client—and desire.
Exhibition
Anne Imhof
Deborah Schamoni, Munich (Allemagne)
from 09 May to 28 Jun 2014