Under Automata
Medium:
Full HD monoband video
Collection:
Lafayette anticipations - Fonds de dotation Famille Moulin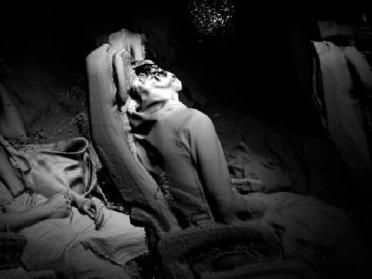 Captured with a scanner, the video Under Automata shows sleeping passengers on board a long-haul flight. Eva L'Hoest uses a sideways tracking shot to record a moment in which nothing happens. She uses a process taken from the video game industry—the 3D scanner—leveraging its ability to record reality and revealing its full artistic potential. This anthropometric tool only partially recomposes the shots it records, thus creating multiple incomplete visions of the image. The bodies decompose, merging with the seats and the décor to create a vision of a night flight which Eva L'Hoest plays with, taking advantage of these poetic "failures." Her analysis of reality transforms this contemporary and banal scene, deconstructing it and transporting it outside of time to create a new perception shaped by contemporary technologies. In 2018, she designed another version of Under Automata in virtual reality entitled Under Automata VR Game.

Text written by Susana Danilovic as part of the partnership between the École du Louvre and Lafayette Anticipations – Fonds de dotation Famille Moulin.