The Surplus of the Non-Producer
Materials:
Stucco, Steel, Wood
Collection:
Lafayette anticipations - Fonds de dotation Famille Moulin
Domain:
Installation vidéo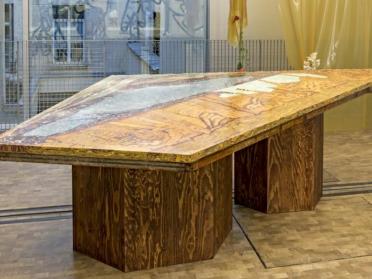 With its angular shapes and mineral appearance due to the stucco work on its surface, this table is a part of the work The Surplus of the Non-Producer. The object made by Ève Chabanon and stucco craftsman Abou Dubaev is in fact the medium for discussions on the difficulties encountered by creators in exile, designated by the term "non-producers". The artist gives them a voice and works with them to create the presented objects as well as the fictional short film and documentary made during this meeting. The sculpture-table thus carries within it the weight of these accounts which evoke the legal, political, systemic, and material reasons behind the situation of these non-producers. The title also refers to the notion of "surplus", which refers to the value and economy of this non-production.

Text written by Camille Philippon as part of the partnership between the École du Louvre and Lafayette Anticipations – Fonds de dotation Famille Moulin.
Exhibitions
Eve Chabanon. Chapter 4 : Sold
Beursschouwburg, Bruxelles (Belgique)
from 22 Apr to 04 Sep 2021
Chapter 3
Westfälischer Kunstverein, Münster (Allemagne)
from 11 Jul to 04 Oct 2020
Le surplus
Bétonsalon, Paris (France)
from 29 Jan to 25 Apr 2020
Take (a)back the economy
Centre d'Art Contemporain Chanot, Clamart (France)
from 13 Apr to 07 Jul 2019
Le centre ne peut tenir
Lafayette Anticipations - Fondation d'entreprise Galeries Lafayette, Paris (France)
from 20 juin 2018 to 09 septembre 2018