Self constructed Upside Down Shelter
Materials:
Plaster, Copper
Collection:
Lafayette anticipations - Fonds de dotation Famille Moulin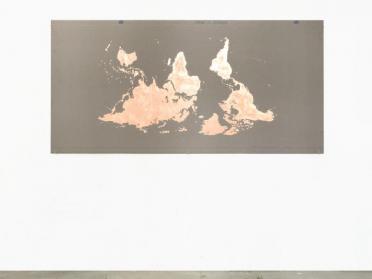 In his work, Abraham Cruzvillegas explores the economic dynamics of the temporary, the artisanal and the recycled. The artist uses production strategies that range from collecting to assembling, but also reinterpreting, materials. Questioning necessity, opportunity and survival, his works take shape within defined perimeters, for example the El Ajusco neighbourhood in Mexico, or the Petite Ceinture, an abandoned railroad track in Paris. Self Constructed Upside Down Shelter proposes a geographic representation born of the unlikely combination of copper and plaster: the work is a map of the world turned upside down, erasing all borders. In this surprising spatiality, where South becomes North, a new balance emerges, enabling the redefinition of flows and exchanges.
Exhibition
You
Musée d'Art Moderne de la Ville de Paris, Paris (France)
from 11 Oct 2019 to 16 Feb 2020