Sans titre
Dimensions:
28 x 35.5 x 29 cm
Collection:
Lafayette anticipations - Fonds de dotation Famille Moulin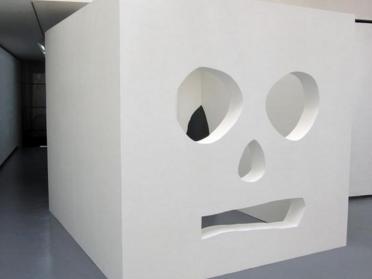 Untitled is a wooden cube painted white with four sides pierced by geometric openings revealing the features of a schematic face. Its colour and expression give it a spectral appearance. The sculpture-face is looked at by the viewer, but it also looks at the exhibition space or its visitors, generating new points of view. Untitled is a mirror-instrument that reflects our own image and mechanisms of interpretation. Mathieu Mercier demands a personal, even introspective reading of the work from the viewer. This white cube also evokes the neutral white layout of the spaces in which was shown in the 1960s.

Text written by Rosanne Moulin as part of the partnership between the École du Louvre and Lafayette Anticipations – Fonds de dotation Famille Moulin.
Exhibition
Antidote 3
La Galerie des Galeries, Paris (France)
from 13 Sep to 03 Nov 2007