Rehearsal for a Reunion
Medium:
Installation; Video; Photograph
Materials:
Wood, Ceramics, Hammers
Dimensions:
73 x 205 x 30 cm
Collection:
Lafayette anticipations - Fonds de dotation Famille Moulin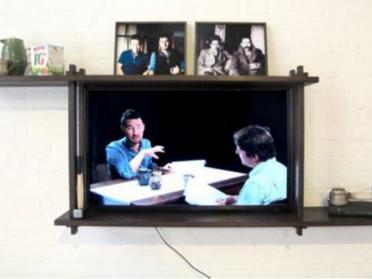 On a Japanese-style shelf, a television set broadcasts Rehearsal for a Reunion. It is surrounded by objects from a tea ceremony, a book by ceramicist Bernard Leach, and two photographs: one in which Simon Fujiwara poses with his father, the other showing Bernard Leach with his friend Shoji Hamada. At the heart of the installation, the video shows the artist and an actor. Scripts in hand, the two men rehearse the scene around a tea set: a reunion between the artist and his father after twenty years of separation. To celebrate their reconciliation, father and son made a copy of a tea set by Bernard Leach, whose style brings together Eastern and Western aesthetics. By linking this specificity to his own experience, Simon Fujiwara makes the tea set the symbol of his filiation and his Anglo-Japanese culture. Situated between reality and fiction, his work stems from a reflection on intercultural and intergenerational relations.

Text written by Quentin Rose as part of the partnership between the École du Louvre and Lafayette Anticipations – Fonds de dotation Famille Moulin.
Exhibitions
My Brother is a Liar
601Artspace, New-York (États-Unis)
from 28 Oct 2015 to 23 Jan 2016
My Third Land
Frankendael Foundation, Amsterdam (Pays-Bas)
from 01 Sep 2013 to 01 Feb 2014