Phantom (Kingdom of all the animals and all the beasts is my name)
Medium:
Virtual reality; Oculus Rift; Unity 3D forest scan
Dimensions:
Dimensions variables
Collection:
Lafayette anticipations - Fonds de dotation Famille Moulin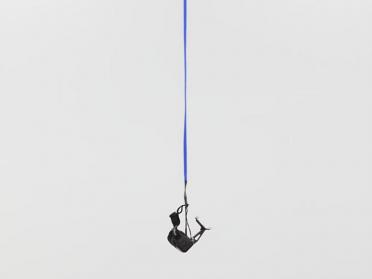 De prime abord, il y a peu à voir. Un visiteur muni d'un casque de vision, Oculus Rift, relié verticalement, tourne à l'aveugle et semble observer un monde virtuel agencé à sa seule attention. Lorsque notre tour vient, on pose l'oculus sur la tête, et s'ouvre alors à nous un paysage dentelé de forêt vierge, sans limite, incommensurable. Chaque brindille, chaque feuille, chaque arbuste est rendu en pointillés stéréoscopiques blancs sur noir, une cartographie spatialisée de l'infinie diversité d'un univers où la nature seule dicte ses lois et a installé des équilibres séculaires. Le dispositif technique suit nos pas et lorsqu'on lève les yeux vers le haut, on est au cœur d'un arbre dont on perçoit de l'intérieur toutes les ramifications. Notre corps de regardeur traverse les lieux et s'efface, comme un pur esprit, une conscience à la fois capable de tout percevoir des structures magnifiquement complexes de l'écosystème sans pour autant nous accorder le pouvoir de le modifier. L'artiste brésilien d'origine catalane
Daniel Steegmann Mangrané
a effectué un scan 3D de haute précision sur près de 1 000m2 au cœur de la forêt vierge du sud ouest du Brésil, le Mata Atlântica. Son installation « Phantom (Kingdom of all animals and all beasts in my name) », 2015, est, pour qui se laisse prendre au vertige de la contemplation, avant tout l'expérience d'une conscience de « soi », un royaume en effet où se confondrait tout le vivant environnant, comme un gigantesque réseau d'énergies invisibles.
Exhibitions
Fata Morgana
Jeu de Paume, Paris (France)
from 15 Mar to 22 May 2022
La mesure du monde
MRAC Occitanie, Sérignan (France)
from 23 Nov 2019 to 24 May 2020
Paradigme de la visibilité
Théâtre de Privas, Privas (France)
from 10 Feb to 07 Apr 2018
BIOTOPIA
Kunsthalle Mainz, Mainz (Allemagne)
from 31 Mar to 30 Jul 2017
Brasil, Beleza?!
Museum Beelden aan Zee, Scheveningen (Pays-Bas)
from 26 May to 02 Oct 2016
Pop up 7 - Daniel Steegmann-Mangrané
44 GL, Paris (France)
from 01 Dec to 31 Dec 0015