New Pompidou
Medium:
HD video, colour and sound
Collection:
Lafayette anticipations - Fonds de dotation Famille Moulin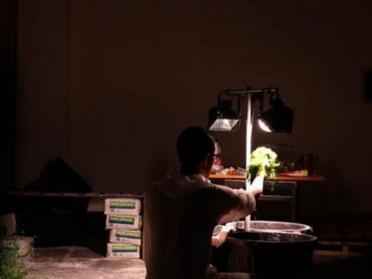 The film New Pompidou follows the process of the creation and production of a plaster sculpture cast from a "gerberette", a steel cantilever that is central to the structure of the Centre Pompidou. This surprising form serves as the artist's sarcophagus for an intimate narrative in which the history of the Marais, the thwarted ambition of an architecture student, and a rose stolen from the Georges restaurant on the roof of the Musée d'art moderne are interwoven. The imminent resurrection of this New Pompidou celebrates the death of a Paris that is no longer, of a dissipated knowledge, a bygone history, a love that is fading away—a quiet death carried in procession on the evening of Valentine's Day, a performative act captured in the filmed version.

Produced with the support of the Fondation d'entreprise Galeries Lafayette for the Centre Pompidou's Nouveau Festival in 2014.
Exhibitions
Infinite Sculpture : From the Antique Cast to the 3D Scans
Beaux-arts de Paris, Paris (France)
from 17 Oct 2019 to 12 Jan 2020
Jeudi des Abattoirs—Beaubourg, centre d'art et de culture Georges Pompidou
Les Abattoirs - FRAC Occitanie Toulouse, Toulouse (France)
from 02 Mar to 02 Mar 2017