Likeness
Materials:
Wax, Fibreglass, Small objects
Collection:
Lafayette anticipations - Fonds de dotation Famille Moulin
Domain:
Installation vidéo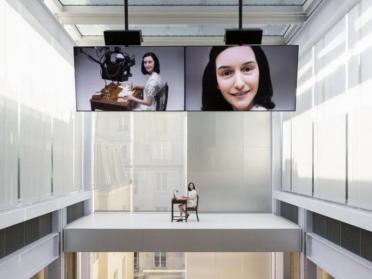 Likeness
, an installation produced specifically for Lafayette Anticipations' "Revolution" exhibition, is constructed around the reproduction of the figure of Anne Frank, identical to the one on display at Madame Tussauds Berlin since 2012. The young girl is portrayed in the process of writing her diary at her desk amidst the decor of her hiding place. An image of a frozen, ever-fragile humanity, the mannequin looks at the viewer with a slight smile. Pushing the visceral need to make images to the extreme, a compulsion already at work in these museums that have become the pretext for incessant selfies,
Simon Fujiwara
decided to film the wax doll with a Bolt camera equipped with a robotic arm and control rig. Anne Frank thus becomes the object of an intrusive scrutiny that borders on indecency. As a counterpoint to Lafayette Anticipations' machine-building,
Likeness
appears as the harbinger of a mechanised world in which the notion of collective memory is confronted with the cold, unrestrained objectivity of gestures formerly performed by human beings.
Exhibitions
Everything Anne
Blaffer Art Museum, Houston (États-Unis)
from 10 Oct 2020 to 13 Mar 2021
Preis der Nationalgalerie
Alte Nationalgalerie, Berlin (Allemagne)
from 15 Aug 2019 to 24 Feb 2020
Revolution
Lafayette Anticipations - Fondation d'entreprise Galeries Lafayette, Paris (France)
from 13 Oct 2018 to 06 Jan 2019