Lean Mean Posing Machine
Dimensions:
61 x 135 x 35 cm
Collection:
Lafayette anticipations - Fonds de dotation Famille Moulin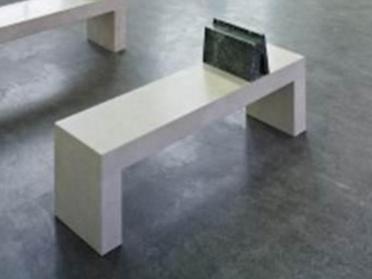 Lean Mean Posing Machine is a geometric work in white marble representing a bench whose clean lines are only broken by the black marble armrest. Used in sculpture since ancient times, marble refers to a tradition and heritage in artistic practices. In the collective imagination, this material evokes sculptures dating from antiquity to the modern period. The tradition of marble is broken by the extremely sober aspect of the bench, which refers to minimalism. This form evokes both everyday and museum furniture. Lean Mean Posing Machine is intended to disturb, to cause the viewer to wonder whether or not they can sit on this bench, whether or not it is a work of art. Shahryar Nashat once again plays on this magnetism, on this attraction that art objects can exert on bodies. He questions the classification of contemporary art, which sometimes takes unclassifiable forms, as well as the limits that the artist may or may not cross.

Text written by Elise Vassiliadis-Poirey as part of the partnership between the École du Louvre and Lafayette Anticipations – Fonds de dotation Famille Moulin.
Exhibitions
You
Musée d'Art Moderne de la Ville de Paris, Paris (France)
from 11 Oct 2019 to 16 Feb 2020
Shahryar Nashat - Prix Lafayette 2013
Palais de Tokyo, Paris (France)
from 20 Oct to 23 Nov 2014