Le Lit
Dimensions:
200 x 15 x 7 cm
Collection:
Lafayette anticipations - Fonds de dotation Famille Moulin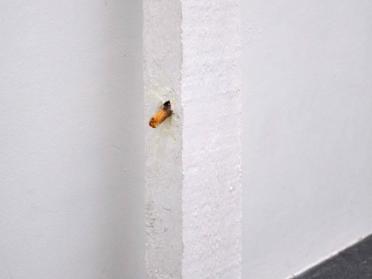 Katinka Bock's work often make clear references to the history of art and modern sculpture by borrowing from the registers of minimal art, conceptual art, and even arte povera. These intersecting influences are at play here: the crude character of the rough plaster is reminiscent of the simplicity of the materials used by arte povera artists, while the long, immaculate board evokes the simple forms of minimalist sculpture. The title of this sculpture may appear ambiguous and contradictory, as the horizontality implied by the notion of the bed is opposed to the clear verticality of the work simply leaning against the wall in an unstable position. The material used is also surprising, since it is a plank resembling a wooden strip covered with plaster. The artist creates a form of duality by letting a piece of raw wood protrude from the board in the manner of a tree branch, thus combining a natural element with an everyday domestic object.

Text written by Marianne Tricoire as part of the partnership between the École du Louvre and Lafayette Anticipations – Fonds de dotation Famille Moulin.
Exhibition
A sculpture for two different ways of doing two different things
Galerie Jocelyn Wolff, Paris (France)
from 14 Nov 2009 to 09 Jan 2010