La Mesure végétale
Collection:
Lafayette anticipations - Fonds de dotation Famille Moulin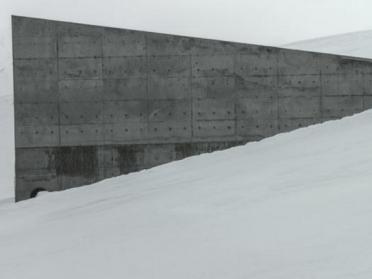 La Mesure végétale is a film shot in the Svalbard archipelago close to the North Pole. The snowy landscape slowly unfolds in a succession of still frames. This windswept natural landscape includes a foreign body: a bunker on the mountainside. This is the world's seed storage facility, which, thanks to the permafrost, is in an optimal state of preservation. No human figure is present in this work. By this absence, the duo attempt to free themselves from the human perspective. Starting from the principle that cinema has always used the image of man as a unit of measurement, whether corporeal in framing or temporal in narration, Fabien Giraud and Raphaël Siboni seek to "decentralize" the gaze and the perception of time through a series of films of which La Mesure végétale is the third opus, after La Mesure Louvre (2011) and La Mesure minérale (2012).

Text written by Léonie Maton as part of the partnership between the École du Louvre and Lafayette Anticipations – Fonds de dotation Famille Moulin.