La liberté, l'amour, la vitesse
Materials:
Stainless steel, Reconstituted Ivory, Plexiglas, Polyester, Silver, Ipad, Speaker, Electronic system
Collection:
Lafayette anticipations - Fonds de dotation Famille Moulin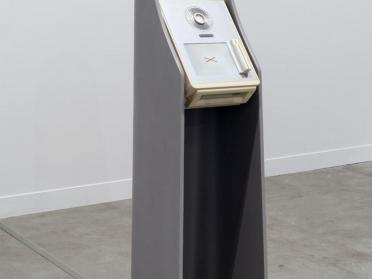 Using advanced production techniques, finely-crafted materials and unique displays, Camille Blatrix endows his works - half art, half machine - with a very unusual existence. For the 2015 Biennale de Lyon the artist created La liberté, l'amour, la vitesse, a mournful cash machine with no money but full of emotions. It shares its thoughts with users about the inability to satisfy their desires, the disillusionment, and the sadness of the world. "Despite my love for them, cash machines have rarely been able to satisfy my needs", says the artist, who, to alleviate his distress, created a machine endowed with feelings – a piece of technology that suddenly takes a real interest in the people who use it.
Exhibitions
Antéfutur
CAPC musée d'art contemporain de Bordeaux, Bordeaux (France)
from 06 Apr to 03 Sep 2023
You
Musée d'Art Moderne de la Ville de Paris, Paris (France)
from 11 Oct 2019 to 16 Feb 2020
La complainte du Progrès
MRAC Occitanie, Sérignan (France)
from 07 Apr to 02 Sep 2018
FluxesFeverFuturesFiction
Azkuna Zentroa , Bizkaia (Espagne)
from 11 Feb to 08 May 2016
13ème Biennale de Lyon - La Vie Moderne
Biennale de Lyon, Lyon (France)
from 10 Sep to 03 Jan 2015
Production specifications
The Fondation preserves and documents traces of the works at various stages of their creation (sketches, models, prototypes, etc.).
Oeuvre exposée à l'occasion de "La Complainte du Progrès" au MRAC (Musée Régional d'Art Contemporain Occitanie/Pyrénées-Méditerranée) de Sérignan.
Oeuvre présentée dans le cadre de l'exposition "FluxesFeverFuturesFiction" à Azkuna Zentroa (Bilbao, Espagne)
Mise en place de la production de l'oeuvre
Choix de la couleur et ajustement de la pièce moulée en polyester
Camille Blatrix
Dirk Meylaerts