HDIRL
Collection:
Lafayette anticipations - Fonds de dotation Famille Moulin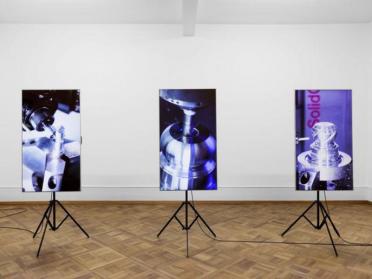 The installation HDIRL consists of three flat screens mounted on stands. Each monitor continuously broadcasts a video to a background of electronic music. The images show a close-up view of a milling machine working on an aluminium cylinder. The milling operation produces shrill mechanical noises that blend with the upbeat music. This work reflects the artist's taste for materiality, and his interest not in the final object, but in the technical process, which becomes an aesthetic subject despite the cold precision of the visual capture. The arm of the machine engraves and sculpts forms in the material which paradoxically appears soft under the action of the milling. These works also have a social dimension as they were produced with the expertise of technicians in a collaborative process.

Text written by Romane Grouille as part of the partnership between the École du Louvre and Lafayette Anticipations – Fonds de dotation Famille Moulin.
Exhibition
Art Basel 2015
Art Basel, Bâle (Suisse)
from 18 Jun to 21 Jun 2015