Go Soft
Dimensions:
1 heure 38 minutes
Collection:
Lafayette anticipations - Fonds de dotation Famille Moulin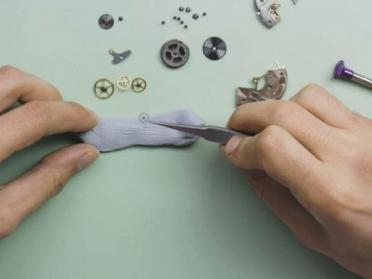 In April 2014, during a production residency at Lafayette Anticipations, Valerie Snobeck made the video Go Soft, dedicated to the so-called "skeleton" watch produced by the Shell company from 1940 on. In this film, the American artist, who had already worked on this oil company, follows the meticulous repair of the movement of this small object for over an hour and a half. The camera focuses on the hands of the master watchmaker as he removes each of the parts of the mechanism before reassembling them one by one. The letters "SHELL" on one of the dismantled gears are a reminder that the watch was originally lubricated with motor oil for advertising and promotional purposes. By focusing on this detail, the artist highlights the economic imperialism practiced by the Shell group. At the junction of political, ecological, and aesthetic concerns, Valerie Snobeck's work summons up the current need for reparation on both a climatic and human level.

Text written by Franny Tachon as part of the partnership between the École du Louvre and Lafayette Anticipations – Fonds de dotation Famille Moulin.

Work produced with the support of the Galeries Lafayette Corporate Foundation in 2014.
Exhibitions
POP UP Truck
Lafayette, Paris (France)
from 03 Jun to 04 Jun 2016