Gisant
Collection:
Lafayette anticipations - Fonds de dotation Famille Moulin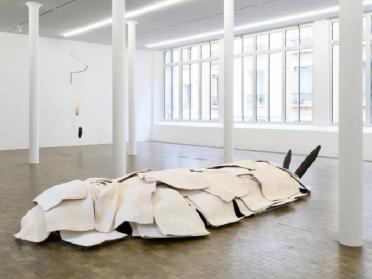 As in Conversation II, Katinka Bock's work is part of a dual artistic tradition: that of medieval tombs made of ceramic tiles, and the arte povera of the 1960s. The choice of material is part of this dual reference, while at the same time reflecting the artist's interest in materiality, particularly through the contrast between the apparent ductility and the reality of ceramics, or between the technical process of making this material and its unpredictable nature. This fascination with metamorphosis, from liquid to solid, heavy to light, is also embodied in the two excrescences that protrude from the white plates and form a shroud, as if the recumbent corpse were transcending its condition, seemingly on the verge of transforming itself, in line with Katinka Bock's attention to the passage of time, the question of transience, and the subjectivity of perception.

Text written by Chiara Perez as part of the partnership between the École du Louvre and Lafayette Anticipations – Fonds de dotation Famille Moulin.
Exhibitions
Katinka Bock: Rauschen
Kestnergesellschaft, Hannover (Allemagne)
from 06 Mar to 22 May 2020
Tumulte à Higienopolis
Lafayette Anticipations - Fondation d'entreprise Galeries Lafayette, Paris (France)
from 07 Oct 2019 to 05 Jan 2020