Forest III
Dimensions:
400 x 500 x 280 cm
Collection:
Lafayette anticipations - Fonds de dotation Famille Moulin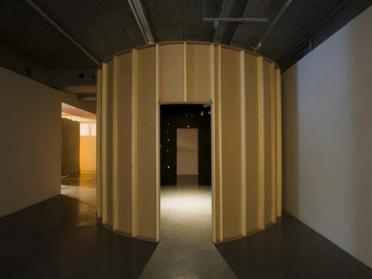 Forest III invites the visitor to enter a circular wooden construction delimited by the presence of an entrance and an exit. Beyond the wooden decor left bare, the viewer then discovers black stencilled murals. The theatrical staging envelops the viewer in a mysterious and anxious halo populated by tree silhouettes inherited from the imagery of the tale. By depicting this dark forest in the manner of a Rorschach test, Ulla von Brandenburg makes use of the codes of psychology and psychoanalysis to invite us to symbolically explore the unconscious. In doing so, the viewer becomes a participant in the work. Through this scenographic illusion, Ulla von Brandenburg instigates an interpretation in the viewer to better reveal the mechanisms of their personality and question their relationship to the world of today.

Text written by Quentin Rose as part of the partnership between the École du Louvre and Lafayette Anticipations – Fonds de dotation Famille Moulin.
Exhibitions
Antidote 6
La Galerie des Galeries, Paris (France)
from 14 Oct 2010 to 08 Jan 2011
Name or Number : Ulla von Brandenburg
Le Plateau FRAC Ile de France, Paris, ()
from 19 Mar to 17 May 2009