Five Conversations
Materials:
Wood, Canework, Sheet, Rubber, Polyurethane foam, Polyester resin, Varnish, Air vent, Glass, UV glue
Dimensions:
38 x 38 x 38 cm
Collection:
Lafayette anticipations - Fonds de dotation Famille Moulin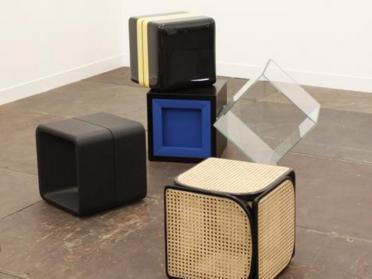 These five cubes misappropriate several icons of modern design: the "Thonet cube" is based on a cane armchair by Marcel Breuer, a German design pioneer from the Bauhaus in the 1930s. Each cube is industrially manufactured with highly technical materials, for example polyurethane foam used for the manufacture of surfboards, but here the materials are freed from the function for which they are usually destined to become quasi-abstract avatars, conversation pieces as the title of the work suggests. Xavier Antin claims to be a descendant of William Morris, one of the founders of the Arts and Crafts movement born in England at the end of the nineteenth century, one of whose ambitions was to bring art and beauty to the people through design and decoration. The artist nevertheless goes beyond this filiation by questioning modern technologies and by asking an essential question for him, that of the "reappropriation of the means of production."

Text written by Marianne Tricoire as part of the partnership between the École du Louvre and Lafayette Anticipations – Fonds de dotation Famille Moulin.
Exhibitions
POP UP Truck
Lafayette, Paris (France)
from 03 Jun to 04 Jun 2016
Tu nais, Tuning, Tu meurs ( 9e Biennale Internationale Design Saint-Etienne)
Musée d'Art et d'Industrie, Saint-Etienne (France)
from 12 Mar to 15 Jun 2015
La Dernière Vague. (This is [not] music)
La Friche la Belle de Mai, Marseille (France)
from 25 Apr to 09 Jun 2013