Euro-palette Standard
Dimensions:
120 x 80 x 16 cm
Collection:
Lafayette anticipations - Fonds de dotation Famille Moulin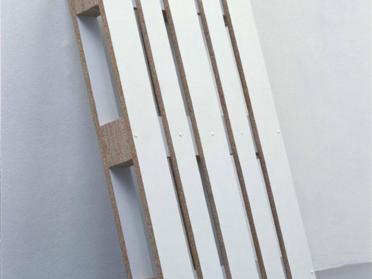 This melamine palette is a reproduction of a popular device for the distribution of goods. The billions of existing copies are reproduced here as a single unit presented against a wall, as if abandoned after a delivery. As an emblem of the transitory and of transport in reference to a globalized society, Euro-pallet Standard borrows from two worlds that seem not to communicate although they have several common characteristics: the museum and the supermarket. They both classify, name, categorize, and inventory objects. They also share objectives, such as facilitating the flow of information, making it accessible, and developing an audience. Mathieu Mercier interprets this correspondence as the commodity's challenge to art. The palette is thus stripped of its commercial and use-value, while acquiring a new exchange value. It is therefore not a readymade that would be art's response to the commodity, nor is it an appropriation by art of what is alien to it. On the contrary, it is evidence of a serene relationship with objects that produces a mutual benefit, emblematic of Mathieu Mercier's approach.

Text written by Manon Prévost-Van Dooren as part of the partnership between the École du Louvre and Lafayette Anticipations – Fonds de dotation Famille Moulin.
Exhibition
Antidote 5
La Galerie des Galeries, Paris (France)
from 20 Oct 2009 to 09 Jan 2010