Die Bibliothek I
Materials:
Wood, Terracotta
Dimensions:
202 x 93 x 78 cm
Collection:
Lafayette anticipations - Fonds de dotation Famille Moulin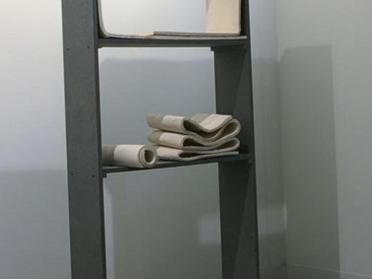 This sculpture represents a simple, wide and shallow wooden bookcase on which are placed folded or rolled terracotta strips that mould to the corners of the object. This combination of two raw materials is characteristic of Katinka Bock's work: clay responds to wood—the material is used for its ability to transform itself, to produce energy, and to embody the passage of time. The artist's practice bears witness to a form of spontaneous abstraction reminiscent of post-minimalist sculpture, which she cultivates with an economy of means as well as often through the treatment of a soft and flexible material, in this case terracotta. The sensual and almost tactile qualities of the clay that hugs the form of the bookshelf respond to the smooth and rough side of the wood worked by the artist. Everything plays out in the relationship between these materials and these actions (modelling and firing the clay, working with wood), which is reminiscent of the work of the German artist Joseph Beuys.

Text written by Marianne Tricoire as part of the partnership between the École du Louvre and Lafayette Anticipations – Fonds de dotation Famille Moulin.
Exhibition
Art Statements Project
Art Basel, Bâle (Suisse)
from 10 Jun to 14 Jun 2009