De Ooievaar bedroom table and carpet
Materials:
Glass, Fabric, Wood, Wool
Dimensions:
79 x 102 cm (table) / 136 cm de diamètre (tapis)
Collection:
Lafayette anticipations - Fonds de dotation Famille Moulin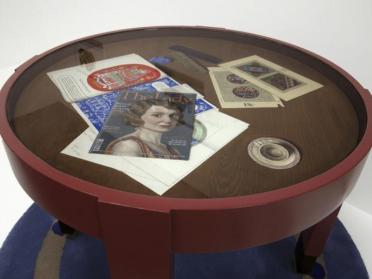 De Ooievaar (Stork Villa), a modernist building in Oostende, was built in 1935 by the Belgian architect and designer Jozef De Bruycker. Inspired by the De Stijl movement and Bauhaus, De Bruycker joined the Flemish avant-garde who created a synthesis of national, political and artistic ideologies. In 2014, Lucy McKenzie bought the villa, where she undertook renovations in collaboration with Belgian artists: the designer Frederik Depuydt helped make a 3D model of the building, the cabinetmaker Laurent Gielis a table and replica chairs, and the company Ora Pro Nobis a carpet. All the while respecting the original materials and design of the house and its furnishings, Lucy McKenzie made subtle modifications in her renovations, turning De Ooievaar into a home appropriated by an artist.
Exhibition
You
Musée d'Art Moderne de la Ville de Paris, Paris (France)
from 11 Oct 2019 to 16 Feb 2020