Dark silhouette : Composition of borrowed inlets
Materials:
Acrylic resin, Wood
Dimensions:
51 x 25.5 x 15.2 cm
Collection:
Lafayette anticipations - Fonds de dotation Famille Moulin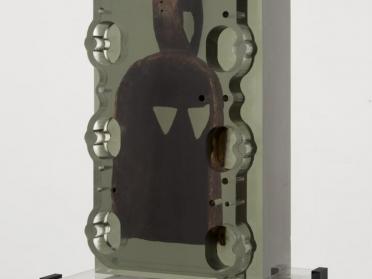 Matthew Angelo Harrison is an African-American artist whose sculpture stands at the intersection of anthropology, science fiction and industrial design. His series Dark Silhouette consists of African artefacts set in transparent resin blocks, into which he carves reliefs and geometric perforations. Taken out of their native context and inserted into a foreign setting, these artefacts are a reminder that Western museums abound with objects removed from their places of origin by colonial violence. The very material of this figure, wood from another continent, suggests an uprooting, whether long ago or recent, and the push and pull between the lands from which we come – which are often unknown, like the exact provenance of this object – and those we end up calling home.
Exhibition
You
Musée d'Art Moderne de la Ville de Paris, Paris (France)
from 11 Oct 2019 to 16 Feb 2020