CAKE
Medium:
Diamond wire cutting
Materials:
Plastic, Leather, Glass, Fabric, Foam
Dimensions:
Dimensions variables
Collection:
Lafayette anticipations - Fonds de dotation Famille Moulin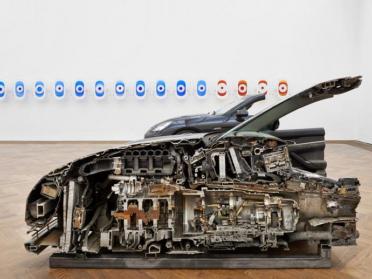 Yngve Holen's practice draws on industrial design and its applications. Known for his meticulous cuts of everyday objects, for the first time with the work CAKE the artist turned to a mass-produced luxury symbol: a Porsche Panamera coupe. Interested in the incongruity of this racing car, designed both as a sportscar and a family vehicle that seats four, Yngve Holen questions whether the notions of speed and safety are compatible by slicing the car into four sections using a diamond wire. Once cut and no longer functional, the car was presented as an écorché, cut sides exposed, the better to reveal its bowels and former power. The work therefore puts an end to an ultimate object of desire as much as it questions the capacity to redistribute wealth equally.
Exhibition
VERTICALSEAT
Kunsthalle Basel, Bâle (Suisse)
from 13 May to 14 Aug 2016
Production specifications
The Fondation preserves and documents traces of the works at various stages of their creation (sketches, models, prototypes, etc.).
Production : Achat de la Porsche
Production : recherche de partenaire technique
Production : recherche du véhicule
Elena Filipovic
- producer