Baisse-toi Montagne, lève-toi Vallon
Medium:
Film 16 mm, black and white, sound, 18 min
Dimensions:
Dimensions variable
Collection:
Lafayette anticipations - Fonds de dotation Famille Moulin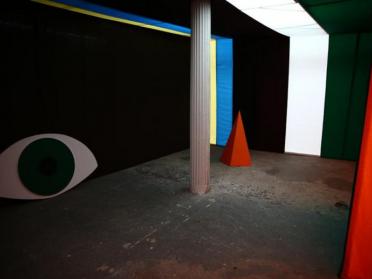 As a follow-up to her performance Baisse-toi Montagne, Lève-toi Vallon, which was performed in several cities around the world, Ulla von Brandenburg produced a film and installation of the same name. On the occasion of the performance in Riga, the artist made a black-and-white film of this play for five actors and a choir about Saint-Simonianism and its social and political projects. For Performa 2015, she projected this film and produced new colour elements for the set (using the chromatic palette of the film's set, made invisible by the use of black-and-white) that complement the costumes and objects already created for the performance. Finally, in addition to the frontal aesthetic of the play and associated film, she imagined an installation offering a total immersion in the positivist utopia that was Saint-Simonianism. In Ulla von Brandenburg's film work, the use of black-and-white represents a form of timelessness. Baisse-toi Montagne, Lève-toi Vallon thus exposes, through different media, the memory of this progressive eighteenth-century movement, which is little known to the public. The work, enriched by the plurality of its forms and songs, rereads, revives, and recalls the values of this movement but also its shortcomings, highlighting the question of the political ideal.