Baisse-toi Montagne, Lève-toi Vallon
Medium:
16 mm film, black-and-white, sound, 18 min
Materials:
Fabrics, Objects
Collection:
Lafayette anticipations - Fonds de dotation Famille Moulin
Domain:
Installation vidéo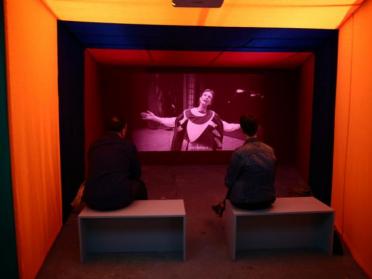 Baisse-toi Montagne, Lève-toi Vallon is a large-scale theatrical performance produced by Lafayette Anticipations and presented for the first time at the Kaaitheater in Brussels. The play for five actors and a choir is based on the dressing up rituals, events, and symbols connected to Saint-Simonianism (dressing the Father, choreography of gestures, hierarchy of songs, lesson in elementary astronomy, manipulation of objects) treated as so many fragments that recall the memory and values of a movement whose communitarian and even sectarian failings were clearly problematic. The performance, carried out in a streamlined floor to ceiling decor, sung to recall the modes of transmission, was the subject of a film presented as part of Performa 15, accompanied by an installation specially designed by the artist for the occasion.