Après (12 posters)
Collection:
Lafayette anticipations - Fonds de dotation Famille Moulin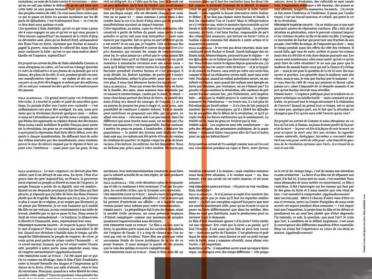 For twelve days in 2017, Éric Baudelaire and the curator Marcella Lista transformed Galerie 3 of the Centre Pompidou in Paris into a projection room, forum, and exhibition space. As a counterbalance to the political and media discourse attempting to shed light on the terrorist attacks of 13 November 2015, the artist made the film Also Known As Jihadi about the possible story of a man who joined the Al-Nusra Front in Syria. The film presents the architectural, political, social and judicial landscapes where the story unfolded. Each evening, events were organized to explore other paradigms, backed by 20th-century canonical works, to overcome the shock of the attacks and cope with unsatisfactory explanations of jihadism. Edited after these events, the twelve posters displayed through the exhibition give an account of the exchanges that took place.
Exhibition
You
Musée d'Art Moderne de la Ville de Paris, Paris (France)
from 11 Oct 2019 to 16 Feb 2020
Production specifications
The Fondation preserves and documents traces of the works at various stages of their creation (sketches, models, prototypes, etc.).
Annonce de l'événement dans les Inrocks
Description du projet par l'artiste
Extrait du dossier de presse
Rendez-vous avec Eric Baudelaire et l'équipe graphique du projet Marie Proyart et Jean-Marie Courant
Rencontre avec Eric Baudelaire et les graphistes du projet "Après" : Marie Proyart et Jean-Marie Courant. Cette première rencontre a permis de comprendre que le projet d'Eric est plus un projet editorial qu'une exposition. Il nécessite donc un accompagnement éditorial. L'enjeu : Produire : - 6 posters - 6 partitions/livrets/journaux Lieu : Bureaux de la Fondation : 13-15 rue de la Verrerie En présence de : Romain Bertel