360 Transparent
Materials:
Electric guitar, Amplifier, Tuner, Cables, Microphone stand, Guitar stand, Chair
Dimensions:
Dimensions variables
Collection:
Lafayette anticipations - Fonds de dotation Famille Moulin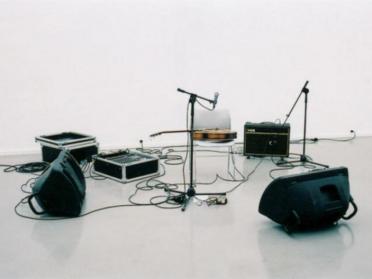 360 Transparent is an installation consisting of various instruments and amplifiers that give it the look of a concert stage. The objects are in place, as if ready for use. Everything is plugged in and connected. The installation is accompanied by a 1h20 musical soundtrack that runs in a loop, a device evoking a kind of ghostly concert. Davide Balula composed each piece to represent a work of art. 360 Transparent is thus an exhibition in which the pieces are materially absent, but simply evoked through the music, which serves here to represent works and perpetuate their memory. This installation reflects the artist's interest in working with sound and technology and his exploration of archives and memories.

Text written by Elise Vassiliadis-Poirey as part of the partnership between the École du Louvre and Lafayette Anticipations – Fonds de dotation Famille Moulin.
Exhibition
Antidote 3
La Galerie des Galeries, Paris (France)
from 13 Sep to 03 Nov 2007