Young Girl Reading Group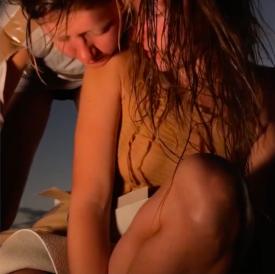 Dorota Gawęda (born in 1986, Lublin, PL) and Eglė Kulbokaitė (born in 1987, Kaunas, LT) are an artist duo founded in 2013, based in Basel (CH) and Athens (GR). Both are graduates of the Royal College of Art, London (2012). In their work they address feminist inspired theory and fiction, technology-driven emancipation and discursiveness of space.
They are the founders of YOUNG GIRL READING GROUP (2013), a project which examines the relationships between reading, affect, distraction, togetherness and disunity, bodily and virtual presence, live action, documentation, self and environment. They have previously exhibited at Palais de Tokyo (Paris), MMOMA (Moscow), ICA (London), HKW (Berlin), Spazio Maiocchi (Milan), Art in General (New York), CAC (Vilnius), Kunsthalle Basel, Kunstverein für die Rheinlande und Westfalen (Düsseldorf), Museum of Modern Art (Warsaw), Berlin Biennale 9, Le Musée d'Art moderne de la Ville de Paris among others. Upcoming exhibitions of the duo include solo exhibitions at FUTURA, Prague and as part of horizontal vertigo at Julia Stoschek Collection, Berlin/Düsseldorf. Gawęda and Kulbokaitė are currently on Triangle France residency in Marseille.