NÂR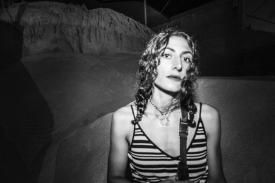 NÂR is a Lebanese multi-instrumentalist and singer/spoken word performer.
In constant metamorphosis, she works with various instruments,her vocals and many objects she finds,processed through a chain of analog effects and loopers she uses in a very singular way.
Layer after layer,she builds up and deconstructs each piece, often leading her sonic experiments with short sentences on repeat like mantras oscillating between Arabic and English or declaimed poetry by writers such as Allen Ginsberg, Sylvia Plath and other contemporary poets as Lydia Lunch.
Abrasive and fragile NÂR's music take its roots in a very large spectrum of sounds, inspirations or genre such as traditional middle eastern and north african trance music,early minimalism, industrial, down tempo, grime moods and noise music.
Lately playing with a set up essentially composed of clocks, carillons and other metallic objects, Daou is showing a new face with more radical directions sometimes even drifting into something we could assimilate to concrete music.