Marine Peyraud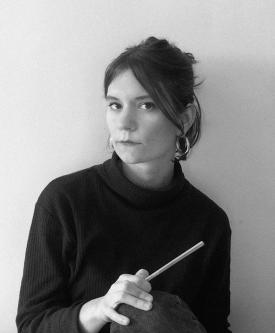 Born in 1990 at Angoulême (France).
Lives and works in Paris (France).
In 2012, Marine Peyraud co-founded Studio Bankrupt with Lily Sato, with whom, over the course of 5 years, she has created and led a number of different projects at the crossroads of art and design. Together, they have designed a new workshop – PLAYGROUNDS (2018) – a special creation for the Studiolo and its public!
A graduate of the École nationale supérieure des arts visuels, La Cambre (Brussels), Marine Peyraud is an independent textile designer. She designs fabrics and print designs across a variety of domains: fashion, lifestyle and video. In 2015, Marine joined the team at Nelly Rodi, an innovation and creativity consultancy agency. In parallel, she developed a number of collaborations with visual artists, musicians, dancers and directors (Alexandre Lavet, Flavien Berger, Pablo Padovani…). The projects she has been involved with bear testimony to her artistic practice, which may be said to combine artistic direction, design and fabrication, all of which showcase the potential of textiles as a creative medium. Finally, attentive to the theoretical and educational dimensions of the career or profession of designer, Marine regularly visits art schools and other structures in order to transmit and raise questions on a collective basis about the issues and challenges facing her discipline.