Garush Melkonyan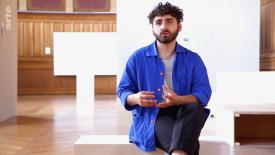 Garush Melkonyan's work mainly combines video, sculpture and installation, exploring the invisible codes that structure communication, discourse and language.
Each project is based on a pre-established protocol that modifies and disrupts the filming process, becoming a unique performance not only for the actors of the video but also for the team that directs it. Experimentation and improvisation within an already defined framework play an important role in Melkonyan's practice as they allow the creation of a new collaborative environment for the different participants involved in the creative process.
His most recent works push the limits of language, revealing the absurdity of human interactions. Film and television conventions, disrupted by new language codes, are diverted and invite the viewer to play an active role in deciphering a renewed visual narrative.