Eric Baudelaire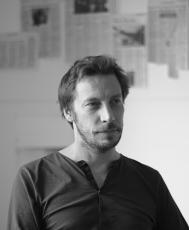 Born in 1973 at Salt Lake City (United States).
Lives and works in Paris (France).
Éric Baudelaire is an artist and filmmaker with a Bachelor of Arts degree from Brown University in Providence, United States. In 2012, he received the Audi Talents Awards (in Contemporary Art category) for his work Enigma of memory: memory of enigma. His artistic practice includes photographs, prints, performances and publications that he incorporates into installations around his films.
After focusing on the ability of photography to represent and distance itself from reality, Eric Baudelaire uses text and information as materials, causing an aesthetic break in his work. The artist develops a thought about the construction of images, the manipulation of documents and their adaptation or contradiction in relation to reality. His work is also anchored in research work on political topics, such as the Japanese Red Army's journey to Lebanon leading to the production of two feature films - The Anabasis of May and Fusako Shigenobu, Masao Adachi and 27 Years without Images (2011) and The Ugly One (2013). He has also done several works on Abkhazia, an unrecognized state in the Caucasus, in his photographic project The Imagined States (2005), his film Letters to Max (2014) and an installation The Secession Sessions (2014). His feature films have been selected at FID Marseille, at festivals in Locarno, Toronto, New York and Rotterdam. His last solo exhibitions have been at Witte de With (Rotterdam), Fridericianum (Kassel), Berkeley Art Museum (San Francisco), Bétonsalon (Paris), Beirut Art Center (Beirut), Gasworks (London), at the Delme Synagogue (in Lorraine, France) and the Pompidou Center (Paris). His work is present in the collections of the Centre Pompidou (Paris), the Reina Sofia Museum (Madrid), the Macba (Barcelona), the MoMA and the Whitney Museum (New York).
Exhibited at Lafayette Anticipations