After (12 posters)
Dimensions:
12 x (121.5 x 82.5 cm)
Collection:
Fonds de dotation Famille Moulin - Acquisition 2017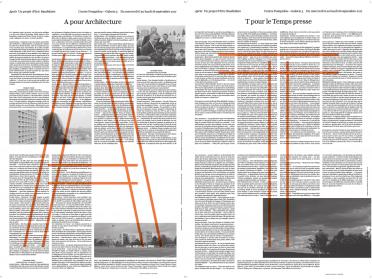 In parallel with the screening of his film Also Known As Jihadi (2017), "APRÈS" ("After") project at the Centre Pompidou (September 6-18, 2017) brought together an exhibition and a daily program of meetings.
For twelve days, it is a question of thinking about the relationship between art and actuality, between image and event. The artist donated the 12 posters made for this series of debates based on an incomplete, arbitrary and intuitive alphabet: A for Architecture; C for Commemorate; E for School ("Ecole"); F for Fukeiron, landscape theory; H for Hypnosis; J for Justice; L for artists in Fight ("Lutte"); M for Motion-image; O for O my country! ; P for Present/Past; R for Justify ("Rendre des comptes"); T for Time is hurried.
Production specifications
The Fondation preserves and documents traces of the works at various stages of their creation (sketches, models, prototypes, etc.).
Annonce de l'événement dans les Inrocks
Description du projet par l'artiste
Extrait du dossier de presse
Rendez-vous avec Eric Baudelaire et l'équipe graphique du projet Marie Proyart et Jean-Marie Courant
Rencontre avec Eric Baudelaire et les graphistes du projet "Après" : Marie Proyart et Jean-Marie Courant. Cette première rencontre a permis de comprendre que le projet d'Eric est plus un projet editorial qu'une exposition. Il nécessite donc un accompagnement éditorial. L'enjeu : Produire : - 6 posters - 6 partitions/livrets/journaux Lieu : Bureaux de la Fondation : 13-15 rue de la Verrerie En présence de : Romain Bertel