Barbara Carlotti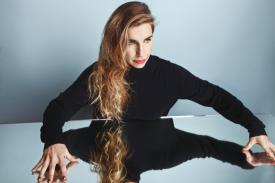 Born in 1974 at Clamart (France).
Lives and works in Paris (France).
"I can tell you about the shape of the universe and the architecture of the skies, I know the patterns which connect us and the fire that lights up our souls…" says Barbara Carlotti in her song Radio Mentale Sentimentale. If music is a living wave made of abstract spreading curves, Barbara Carlotti certainly knows how to draw its shape. For that matter, her whispering on the radio tells as much as her songs and performances.
In 2012, she was a nominee at Victoires de la Musique. In 2013 and 2014, she produced the radio program Cosmic Fantaisie on France Inter. Her voice then guided us into futuristic islands and sonic outer space. Since 2015, she has been developing Dream Laboratories, based on music and literature, where she shares her oniric visions with friends like Christophe, Philippe Katerine, Juliette Armanet or the writer Jonathan Coe. Her 2018 album Magnétique questions our senses and our imagination in addictive ritournelles. It is an invitation to daydream, a soft-skinned record that allows magical worlds to unfold, a desire-infused universe that embarks you on an unforgettable journey.