Andrea Lissoni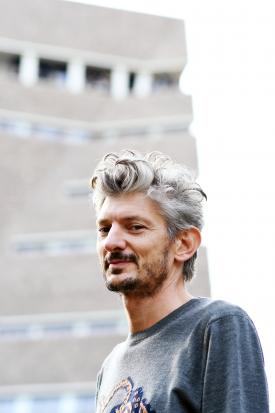 Born in 1970 at Milan (Italy).
Lives and works in London (United Kingdom).
Andrea Lissoni, PhD, is Senior Curator, International Art (Film) at Tate Modern, London. Formerly curator at HangarBicocca (Milan), the co-founder of the independent artistic network Xing and co-director of the international festival Netmage (Bologna), he co-founded Vdrome in 2012, an online screening programme for artists and filmmakers, which he co-curates since then.
At Tate Modern he launched a yearly Cinema Programme conceived as an exhibition unfolding throughout the year, he co-curated the display and the live programme at the opening of the Blavatnik Building in 2016, the 2017 and 2018 BMW Live Exhibition, the 2016 Hyundai Turbine Hall Commission by Philippe Parreno and the expanded exhibition Joan Jonas (2018). He was the co-curator of the Biennale de l'Image en Mouvement The Sound of Screens imploding, Centre d'Art Contemporain Genève (2018).