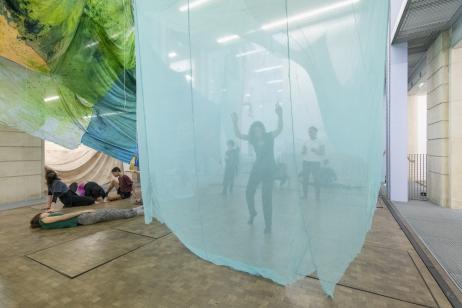 Lafayette Anticipations attaches great importance to the protection of your personal data and respect for your privacy.
The purpose of this policy is to inform you of our practices regarding the collection and processing of data that you provide to us while browsing the Lafayette Anticipations site.
Personal information policy
In accordance with legal and regulatory requirements, we collect, use, share and store this information under enhanced security conditions.
Data collection
We collect and process the following data: Name, first name, email address, navigation data on our website.

Purposes and basis of processing
Your Data will be used to send you the newsletter. They are processed on the basis of our legitimate interest and pre-contractual measures.

Rights of individuals
You are reminded that in the context of the processing of your Data, and in accordance with the provisions of the General Data Protection Regulation of the European Parliament and of the Council of 27 April 2016 applicable as of 25 May 2018 (hereinafter "GDPR") and of Law No. 78-17 of 6 January 1978, as amended, relating to information technology, files and freedoms, you have the following rights over your data:
- Right of access (article 15 of the RGPD) ;
- Right of rectification (article 16 of the RGPD);
- Right to erasure (Article 17 of the GDPR);
- Right to limitation of processing (Article 18 of the GDPR);
- Right to portability (Article 20 of the GDPR);
- Right to object (Article 21 of the GDPR).
To exercise your rights or to make any other request concerning the processing of your data, you can contact us by the following means: contact@lafayetteanticipations.com
Furthermore, if you consider that the processing of your personal data does not comply with the regulations in force or if you are not satisfied with the answers provided, you may also lodge a complaint with the Commission Nationale de l'Informatique et des Libertés (CNIL) or any other competent authority.
Data retention
Your data related to the newsletter will be kept for the duration of your subscription.

Data security
In the context of the processing described herein, all appropriate technical and organisational measures are taken against any unauthorised access, alteration, disclosure, destruction and loss of your Data, which is hosted in data centres located within the European Union for the duration of the processing.
Unless otherwise provided for by law, regulation or court order, access to your Data is restricted to authorized Lafayette Anticipations employees.
Your personal data is processed and hosted on servers located in the European Union.

Cookie management
What is a "cookie"?
A cookie is a file placed on your terminal (computer, mobile or tablet) when you visit a site or view an advertisement. Its purpose is to collect information relating to your browsing, in order to send you services and offers adapted to your terminal and your interests.
The customer's choice on the deposit of cookies is kept for 6 months. The cookies deposited on the site have a maximum life of thirteen months.
When you visit our website for the first time, cookies are likely to be deposited, subject to the choices you have made concerning cookies.
We inform you of the deposit of these cookies via the information banner that is displayed when you first open the web page you are visiting. You are then informed that by clicking on the "ACCEPT" button you are giving your consent to the deposit of all cookies. If you click on the "REFUSE" button, no cookies will be deposited except for the cookie recording your choice to refuse.
What information do cookies collect?
Cookies record and/or read files in order to obtain information relating to your interaction with the site, and in particular to your navigation and behaviour.
In this context, subject to your agreement and/or the chosen settings, Lafayette Anticipations collects and processes all or part of the following information in the context of the operations detailed below:
Functional cookies essential for navigation:
These cookies are files that are essential for the display and proper functioning of the site. In particular, they allow you to be authenticated.
These cookies are automatically deposited and it is not possible to configure or refuse their deposit because, without them, the site could not be displayed and/or function correctly.
Analysis and performance cookies:
We may use partner companies to analyse and measure the audiences and visits to our websites, to draw up statistics and to carry out checks with the aim of optimising our services and/or improving our knowledge of our visitors.
Our recurring partner depositing analysis and performance cookies is Google Analytics.
How do I set my cookies?
Several possibilities are offered to you to set your preferences with regard to cookies. However, any changes you make may affect your browsing experience and your access to certain services that require the use of cookies: you may no longer be able to benefit from a certain number of functions that are nevertheless necessary for browsing in certain areas of our site. This would be the case if you attempt to access our content or services that require you to be identified. This would also be the case if we - and/or our partners - were unable to recognise, for technical compatibility purposes, the type of browser used by your terminal, its language and display settings or the country from which your terminal appears to be connected to the Internet.
You can set cookies in the following ways:
- by directly configuring your browser (Internet Explorer, Chrome, Safari, Mozilla, etc.) so that cookies are saved or rejected;
- by clicking on "I personalise my choices" on the cookies banner that appears when you first visit our site.