Why are you angry ?
Collection:
Fonds de dotation Famille Moulin - Pré-acquisition 2015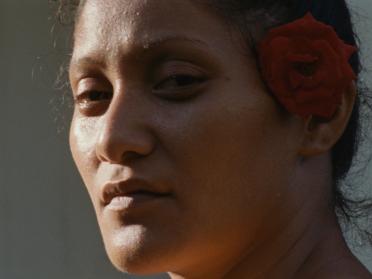 The title of this 16mm film, Why are you angry?, is inspired by this of Paul Gauguin's work in 1896 which was entitled No Te Aha Oe Riri. The artist duo Nashashibi/Skaer deconstructs the iconic representation of Tahitian women in Paul Gauguin's paintings.
In this piece, the artists situate the female figure as subject and author, rather than mere object of the male artist's gaze. This concept, theorized in 1975 by feminist filmmaker Laura Mulvey, defines the biased construction of femininity by the male creator. In their film, Nashashibi/Skaer borrow from Gauguin's work, staging their contemporary female models in poses similar to those found in the postimpressionists' pieces, while granting the subjects a newfound agency: the liberty to not observe the spectator in turn. By reexamining these scenes, the artists topple the male gaze: the representation of women by women, inviting the spectator to observe the subjects through a different lens.
Production specifications
The Fondation preserves and documents traces of the works at various stages of their creation (sketches, models, prototypes, etc.).
Note d'intention des artistes
Réception artistique du film "Why are you angry?"
La vidéo est considérée comme un "modèle de représentation éthique d'autres cultures et des risques que cela peut engendrer"
La Fondation Lafayette Anticipations soutient le projet de plusieurs artistes dont celui des artistes Rosalind Nashashibi et Lucy Skaer.
Pré-acquisition de l'oeuvre "Why are you angry?" par le Fonds de dotation Famille Moulin