Villa De Ooievaar
Collection:
Fonds de dotation Famille Moulin - Acquisition 2016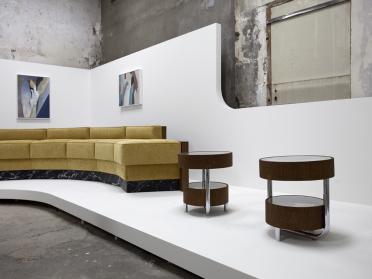 In 2014, Lucy McKenzie became the owner of De Ooievaar (Villa Stork), a listed Modernist villa built in Oostende in 1935 by the Belgian architect Jozef De Bruycker. McKenzie is restoring the house with the intention of using it as a site in which to unite the various parts of her practice – decorative and applied arts, collaborative projects and appropriation – and as a vehicle for researching the Belgian Interbellum, a period with a complex and problematic history.
The villa will be renovated in a way that is faithful to its original material and design, while also incorporating subtle changes that will transform it into an "appropriated artist's house". For
Joining Forces with the Unknown
,
Lucy McKenzie
presents a scaled model of the villa, a rug, tables, as well as trompe-l'oeil still life pieces, abstract paintings, and axonometric maps, created fir De Ooievaar in collaboration with artisans and designers. The film
Villa De Ooievaar digital render (work in progress)
continues
Lucy McKenzie
's working relationship with interior designer Frederik Depuydt,
Bride Club Breche II
Framed oil on canvas
V&A Paonazzo
Framed oil on canvas
Axonometric plans I-III
Guache and pencil on papier, framed
De Ooievaar Scale model
Plastic, painted plastic, etched plastic
Bedroom table
Painted wood, glass, hand-made carpet, oil on canvas
Side tables I & II
Wood, stained wood veneer, glass, metal, oil on canvas
Veranda sofa
Wood, stained wood veneer, upholstered fabric, oil on canvas Frederik Depuydt (maquette maker) M. Van Den Steen (upholstery) Johan Wambacq (consultant architecture) Laurent Gielis (furniture maker) Cimesac (metalwork) Ora Pro Nobis (carpet) Alison Yip, Josefine Reisch et Aleksandra Chauchova (painting assistance)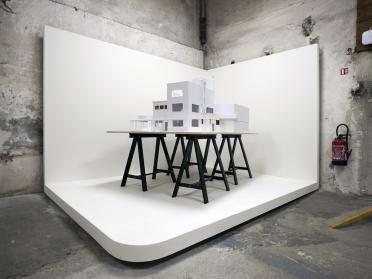 Production specifications
The Fondation preserves and documents traces of the works at various stages of their creation (sketches, models, prototypes, etc.).