The Vestoj Salon at MoMA PS1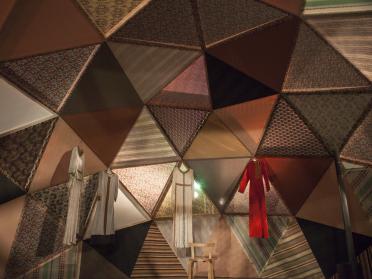 The power of memories of clothes, which can be like Proust's Madeleine for a single individual or for a whole epoch, was put to the test at the "Vestoj Salon", hosted by Anja Aronowsky Cronberg at New York at MoMA PS1 on March 29 2015. Six personnalities of fashion adress to the new yorker public personnal histories linked to the memory of a clothe.
Each story is here momentarily resurrected as textile memento mori – a tactile, ever-present reminder of a culture in perpetual flux. At the same time these stories provide a comforting aide-memoire, reminding us of our own transience and reassuring us that, to paraphrase Victor Hugo, history is merely an echo of the past in the future: a reflex from the future in the past. Discarded garments reflect our history, becoming tangible material memories of times past, love lost or found, disappointments endured or victories won. In remembering the clothes we once loved, these lost objects of desire could perhaps be read as a map to our past, uprooted from fashion's frenzied logic of seasons and collections. In this vein, the Vestoj Storytelling Salon brings together a handful of people who have shaped the New York fashion scene over the past five decades. For one day, Pat Cleveland, Glenn O'Brien, Mary McFadden, Andre Walker, Joan Juliet Buck and Dapper Dan will be telling stories, all linked through their common narrative based on the intersection of our clothing and our past. Aiming to remove the barriers between storyteller and audience, the Vestoj Storytelling Salon allows the response of the listeners to influence and inform the ebb and flow of the stories themselves, effectively turning the listeners into co-creators of each story as it's being experienced. THE STORYTELLERS Candy Pratts Price, editor Candy was once called the 'Queen of the Internet', and after over a decade at the helm of Style.com followed by Vogue.com, this is a fitting moniker. In her long career in the business, she has gone from shopgirl at Charles Jourdan to working closely with all from Wintour to Ralph Lauren, Guy Bourdin, Manolo Blahnik and Mario Testino. She has been immortalised in 'The September Issue', as the world's first fashion editor avatar and by the CFDA who awarded her the Eugenia Sheppard Award in 2008. Patricia Field, costume designer Pat became a household name as the costume designer of Sex and the City. A native New Yorker, her downtown boutique Patricia Field has catered to club kids and eccentrics since 1966, and Pat herself has through her work on the big and small screen spawned many a trend – from Carrie Bradshaw's tutu and 'Carrie' necklace, to Ugly Betty's quirky pattern and colour combos and Miranda Priestly's 'rich-lady clothes' in The Devil Wears Prada. Dapper Dan, créateur In the late 1980s Dapper Dan's Boutique in Harlem was open twenty-four hours a day in order to cater to all the local celebrities: LL Cool J, Mike Tyson, Salt- N-Pepa and notorious drug dealer Alpo Martinez were just a handful of his regulars. By printing Gucci, Fendi and Louis Vuitton logos all over mink, crocodile and python outfits, Dap made booming business until the companies whose logos he had hijacked forced him underground in 1992. Pat Cleveland, mannequin Pat was one of the first African American supermodels. She was a stalwart at Studio 54, and a muse to designers Yves Saint Laurent, Halston and Stephen Burroughs. Known for her distinctive and runway walk, she continues modeling to this day – most recently appearing with her daughter in this year's Lanvin spring/ summer ad campaign. Mary McFadden, créateur Mary McFadden helped define American fashion in the 1970s. A lover of ancient cultures and exotic textiles, she turned her hand-painted tunics, pleated silk gowns and elaborately embroidered dresses into a multimillion brand in the 1980s. Married five times (once to the King of Dogon), Mary is today dating Marquette de Bary, with whom she travels the world in order to add to her much-treasured and ever-growing collection of art and antiques. Glenn O'Brien, writer Glenn was the first editor at Andy Warhol's Interview magazine, and a member of Warhol's Factory. Between 1978-1982 he hosted TV Party, featuring Jean Michel Basquiat, David Byrne, Klaus Nomi, The Clash and many others. He has since been a stand up comedian, an ad-man for Barneys New York and the editor of Madonna's book Sex. Today Glenn writes the column 'The Style Guy' for GQ magazine.