TORSO I, II, III
Medium:
Wood core, polyurethane foam, and silicone
Courtesy:
Courtesy the artist and Zeno X Gallery, Antwerp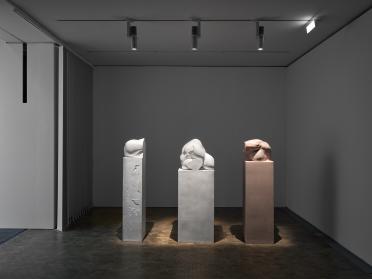 The Torso works recall a long tradition of sculpture that can be traced back to the ancient Greek statue, the masculine ideal, and the tradition of the nude—classics of Western culture.
Historically, the nude refers to a vision of physical and psychological excellence that the Greeks represented through muscular and powerful men of heroic or divine status. In Martin Margiela's work, this masculinity disrupts the scale: he sculpts a being with mutant forms and an unidentifiable body that looks more like a collage. The sculptures are attached to their plinths and trimmed to line up with the same dimensions. Traces of wear and tear appear at the bottom of the plinths: the work as a whole suggests the end of an ideal, that of a certain masculinity on the one hand, and the authority and distance of the works on the other.
Production specifications
The Fondation preserves and documents traces of the works at various stages of their creation (sketches, models, prototypes, etc.).